Video marketing is the present and the future. It is a valuable tool that businesses integrate into their marketing strategy to deliver undeniable results. What makes it a success is the fact that it can be tailored to a specific audience and made relevant to individual consumers. Explainer videos are an essential element of marketing that help innovatively convey your offering to inspire your target market. However, you need a top explainer video company in London to achieve the desired outcomes.
In this article, we will explore how you can transform your idea with an explainer video by London's leading animated explainer video production company, Explainer mojo.
Explainer mojo: Create Bespoke Videos To Communicate Your Brilliant Ideas
Explainer videos are a great way to communicate your ideas to your target audience. Whether you want to promote a particular product or your services, a creatively executed video can attract consumers and help them understand your offering easily.
As important as it is to have an amazing product or service, it is equally crucial to driving conversions. And that's where Explainer mojo can come to your rescue! Explainer mojo comprises a team of highly spirited professionals who understand the meaning of 'survival of the fittest in today's fast-paced digital markets.
As one of the top explainer video companies in London, Explainer mojo knows how to deliver high-quality explainer videos that make your business stand out from the competition. You can check out the company's portfolio for previously completed projects. It will also give you a better idea of what to expect from each explainer video category.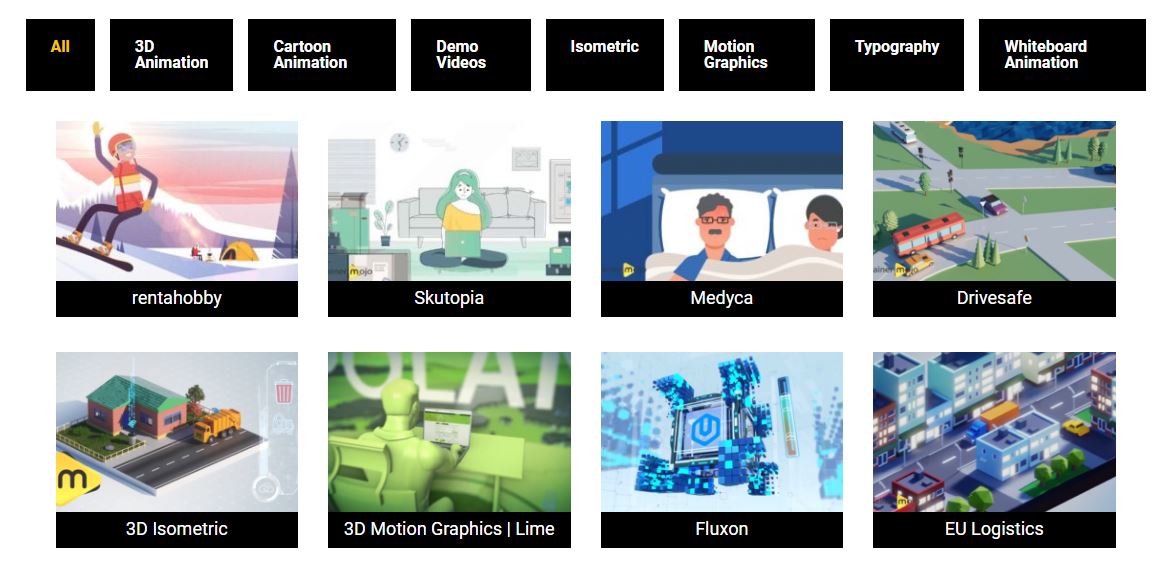 How Does Explainer mojo Produce An Explainer Video?
If you are wondering how top explainer video companies in London produce a video, here are the different stages of production.
1.      Set A Marketing Goal
The first crucial step for starting your explainer video project is identifying your video marketing goal. According to a survey by Statista, 33% of video marketers said their marketing objective for 2022 was to boost sales and revenue, while 32% agreed that their focus was on increasing brand awareness and reaching new audiences. A clear goal will allow Explainer mojo to create a video that tells your story in a captivating, fun, and memorable way so you can achieve the results you want.
2.      Write A Stellar Script
The team at Explainer mojo gathers all relevant information to develop a true understanding of your ideas and objectives. The next step is to write a script that is attractive and informative. Research indicates that an average adult's attention span for online videos is as low as a goldfish: 8 seconds only! This is why it's imperative to grab the viewer's attention quickly and address the customer's pain points, in the beginning, to keep them hooked.
The script of an explainer video is like a story that starts with a problem and ends with a solution. While this may seem like a walk in the park, how the story is narrated makes all the difference. Luckily, the scriptwriters at Explainer mojo are great storytellers! Once the script is ready, the draft is sent to the client and revised until it is approved.
3.      Create A Storyboard
The next part of video production is the visual representation of the script, aka the storyboard. This is an exciting time for both the client and the company because the script is turned into a colorful, scene-by-scene presentation. You can see how your video will appear before it is animated and send the necessary feedback at this stage. You can even add fun characters to your video to make it more lively and relatable to your target audience.
4.      Add Voiceover
A voiceover is a human element in the explainer video. When your potential customer hears a human voice in the video, it becomes easier for them to relate to your message. As one of the top explainer video companies in London, Explainer mojo has several voiceover artists that you can choose from.
You can pick the voice, tone, and accent that would resonate with your audience the most. The chosen artist narrates your explainer video, and the end product is shared with the client for approval.
5.      Bring The Video To Life With Animation
The final stage of video production combines all elements to create an animated video. It is where your idea comes to life! Animation is a powerful marketing tool because of its capacity to present complex processes in a simplified manner.
The completed video is then sent to the client, and after performing any final revisions, the explainer video is ready to be shared with the world.
What Types Of Explainer Videos Can Explainer mojo Create?
Explainer Mojo offers different types of explainer videos that you select according to your preference. The services provided by this top explainer video company in London include:
Animated Explainer Video
Animated explainer videos are the most widely used for video marketing purposes. They are best suited for explaining services or products with very few physical features.
App Explainer Video
An app explainer video is short and engaging, usually 60-80 seconds long, explaining the app's functionality, user interface, and benefits.
Cartoon Explainer Video
Cartoon explainer videos bring life to the script through relatable animated characters, helping brands connect with their audience.
Isometric Explainer Video
Isometric video is a 2D video that captures the elements of 3D animations through extraordinary graphic designs. You can turn even the most complex information into an easy-to-understand, attractive layout with Explainer mojo's isometric explainer video.
Motion Graphics Video
Motion graphic explainer videos transform still graphics into a lively presentation with visual effects, animation, and other cinematic techniques.
Whiteboard Animation
Whiteboard animation is a video style that combines characteristics of illustration and 2D graphics. It shows static images being drawn on the screen and are usually shot with time-lapse videography.
Final Word
Explainer mojo is among the top explainer video companies in London. You can count on our expertise to deliver explainer videos specifically tailored to your requirements and customer preference. Connect with your audience with inspiring and memorable content that guarantees customer retention and drives conversions.